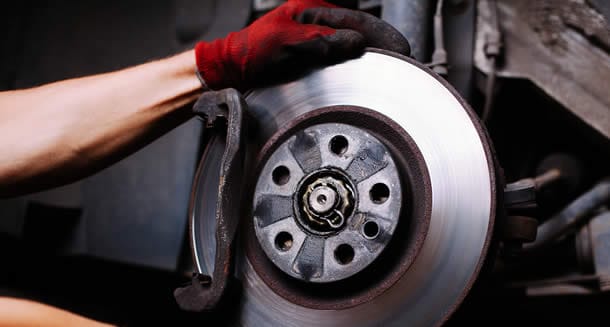 Why is Brake Maintenance Necessary?
Without working brakes, your car simply won't be able to stop in time. This can cause anything from a small fender bender to a major accident, neither of which is worth the risk. Regular brake maintenance helps ensure that your brakes engage every time you press on the brake pedal.
What is a Brake?




A brake is a mechanical device that inhibits motion by absorbing energy from a moving system. It is used for slowing or stopping a moving vehicle, wheel, and tires
Why is a Brake important?
Your brakes are the most important safety system in your vehicle. Brakes give you the ability to slow down or stop in an instant and can help you avoid a serious accident. Brakes that aren't well maintained and regularly inspected can let you down when you need them most.
How Do I Know if I Need New Brake Pads or Rotors?
If your car's brakes are squeaking, squealing, or making ominous grinding noises when applying the pedal, you might need new brake pads or rotors. Ditto if the brake pedal has more travel than usual before you feel much braking force, or if it just feels like your car requires longer distances to stop.
How Long Will My Brake Pads Last?
There's no standard answer to this question. Car manufacturers estimate that brake pads can last anywhere between 20,000 to 30,000 miles. On average, most car owners replace their brake pads after 20,000 miles to ensure they're still in good shape. A few factors can determine how fast brake pads wear such as your driving style and your environment.
Why Should I Service My Brakes at Volvo Cars of Huntington?
We use genuine Volvo parts along with Volvo-certified techs that know Volvo's braking system better than anyone. They have been thoroughly trained and certified to service all the components that also work with the ABS and brake assist. It's not just slapping in pads alone!
Additional Brake Repair Tips for Volvo's on Long Island
Most vehicles are equipped with disc brakes on the front wheels, and many have disc brakes on the rear wheels, as well. Disc brake pads wear out over time and should be inspected for wear approximately every 15,000 miles. If you hear a loud squealing noise when the brake pedal is pressed, this is a sign that the brake pads may need replacement. Huntington Volvo service technicians can quickly diagnose the condition of your brakes. Contact us today if you are scheduled for regular service or if you hear noises when depressing your brake pedal.