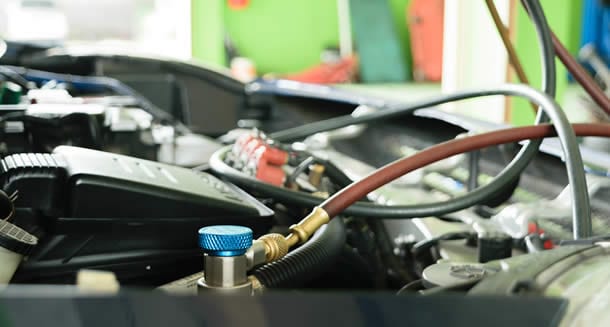 A/C Repair Benefits
What are the advantages of air conditioning in your car?
A cooler, more comfortable driving experience. 

Better air quality. 

De-misted windscreen. 

A safer drive.

More fun in a traffic jam. 
When should I get it?
The best indicator that you need to recharge the refrigerant is when the system begins to cool less than it used to, but before it stops cooling completely. When your system doesn't blow as cold as it once did, you need to have it inspected
What is it?
The air-conditioning system in a car works by manipulating refrigerant between a liquid and a gaseous state. As the refrigerant changes states, it absorbs heat and humidity from the vehicle and allows the system to give off cool, dry air.
Why is it important?
Vehicle cooling and warming systems are quite possibly the main pieces of a car. It gives the driver and the travelers a good climate when driving. It is intended to warm up within a vehicle during the virus season and to give cool cooling during warm climates. It is vital to have a functioning cooling and warming framework as it offers a protected method to drive. Throughout the colder time of year or chilly climate, the vehicle's windscreen and windows can mist up and it might turn out to be difficult to cruise all over. The Volvo cooling and warming framework can help eliminate the haze by defogging/demisting the windscreen and windows. There are a few different ways to handily defog the vehicle, for example, utilizing the defogging vent or switching on the vehicle cooling to a low temperature first and afterward raising the temperature. 
How do I know if I need it?
Your A/C is Blowing Warm Air. One of the most obvious symptoms of low Freon levels is if your air conditioner is blowing warm or room temperature air.

Listen For The A/C Clutch to Engage.

Visible Refrigerant Leaks.

Your A/C is Blowing Warm Air.

Listen For The A/C Clutch to Engage.

Visible Refrigerant Leaks.
Additional Air Conditioning Service Tips near Long Island, NY
Here are some simple ways you can check on your vehicle's air conditioning system periodically and be more proactive in recognizing potential  problems.
Run your air conditioner once a week for several minutes. This will maintain gas pressure to keep the compressor working properly. When you do this, be sure to turn to the highest fan speed and coldest setting.
Run defrost for approximately five minutes. This prevents mildew & cleans out moisture, which can lead to odors in your car.
Use your air conditioner in winter. In addition to cooling your vehicle, one of the air conditioner's primary functions is to remove humidity. It works well when you need to remove fog from the windshield to improve visibility.
Re-charge your air conditioning system. Every two years refresh the cooling system with gas and lubricant.
Get a full air conditioning service. Head to Huntington Volvo each year before June to make sure you are set for Long Island's hottest months.